Oscar Bucher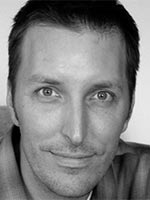 Oscar Bucher creates narrative films, documentaries, and music videos, along with innovative commercial works for some of the world's top business leaders, including Genentech, SAP, PayPal and many others.
Bucher says, "As a passionate filmmaker and storyteller, I am driven to create works that engage the audience with compassion, humor, and surprise, allowing us to share our humanity through bold cinematic narratives. Simply put, I entertain people with really cool stories."
Career Highlights
Bucher's film, Waiting for a Train: The Toshio Hirano Story. screened in over 50 international festivals, as well as on PBS and won 11 awards, including one from the International Documentary Association.
He has teamed up with Metallica guitarist Kirk Hammett to direct a series of short films, with a larger project in development.
He edited the pilot episode of a new hour -long docudrama, Without A Scalpel, which follows three patients and their doctors through ground-breaking procedures that heal and transform their lives.
His most recent work, Nelson Algren Live, stars Willem Dafoe and premieres at the Pacific Film Archive in June, 2016.
Work Experience
EVOLVE MEDIA PRODUCTIONS — Director, Editor — 2010-Present
Assist and direct creative teams to incorporate client's message with strong scripting, professional film production and high-end motion graphics for great visual appeal and compelling storytelling.
BARRY GIFFORD — Screenwriting Assistant — 2001-Present
Collaborate with award-winning writer Barry Gifford, author of the David Lynch films Lost Highway and Wild Heart, on screenplays for independent film production.
FILMMAKER — OB3 Studios — 1999-Present
Writer/director/editor of several award-winning short films, documentaries and music videos. Recent works include: Too Much Horror Business, a documentary for Metallica guitarist Kirk Hammett; Nelson Algren Live, a feature-length film starring Willem Dafoe; Getty Lucky, a documentary about a lounge singer/private eye; and Waiting for a Train, which was recently featured on PBS.
FILM SCHOOL TEACHING ASSISTANT — San Francisco State University — 2008-2009
Taught and/or assisted instruction in the following classes: Film History II (2008), Film and Society (2009), Eastern European Film (2009), Digital Sound for Film (2009)
INQUILINE THEATRE COMPANY — Co-founder, Director, Producer — 1998-2004
Directed and/or produced nine critically acclaimed theatrical productions.
SAN FRANCISCO CITY COLLEGE — Assistant Teacher — 1999
Supervised and assisted students with projects on Avid non-linear editing systems.
Awards and Honors
Winner of the IDA/David L. Wolper Documentary Award, International Documentary Association, 2010
Winner "Crystal Heart Award", Heartland Film Festival, 2010
Winner "Best of Fest – Documentary", Official Best of Fest Awards, 2010
Winner "Best Non-Fiction Film" and Winner "Audience Award", Nevada City Film Festival, 2010
Winner: "Best Short Documentary", Chicago Int'l Film and Music Festival, 2010
Winner: "Outstanding Documentary", Angelus Student Film Festival, Hollywood, 2009
Nominated for "Best Documentary Short" & "Bay Area Short", San Francisco Int'l Film Festival, 2009
Winner: "Best of Fest - Audience Award", LZ Digital Short Film Festival, San Francisco, 2009
Winner: "Best of Fest - Audience Award", SFSU Film Finals Festival, San Francisco, 2009
Winner: The John Gutmann Filmmaker of Excellence Award, 2009
Winner: The Murphy & Cadogan Fellowship, 2009, San Francisco Arts Commission Gallery
Nominated for Humanitas Award for "Angel of Mercy", a script for television pilot, 2008
Winner: Production Donation Awarded from Eastman Kodak, 2008
Winner: The Jack Oakie & Victoria Horne Oakie Creative Arts Scholarship, 2008
Winner: Audience Award, Chicago Horror Festival: "The Peephole" 2005
Winner: Santa Barbara Foundation Award, 1991