Jerry Morter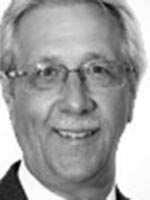 Jerry Morter is a native of Ohio. He graduated from California State University, Fullerton in 1975 and began a long and successful career in the food industry. Some of his many achievements:
Founder of Morco Foods Inc.
Grocery Wholesaler—Import/Export
Co-Founder of the Western Eagle Foundation, the largest non-profit food bank in Riverside County, CA
Founder of Gold Coast Foods Inc.
Founder of the Rialto Café, which has contributed to and hosted many fund-raising events for local non-profits
Jerry has a rich family life as well, especially enjoying their vacations together. He also enjoys playing and watching all types of sports.
He is a past Master of Anaheim Lodge #207, and a recipient of the Hiram Award, considered to be the highest honor that a Masonic lodge can bestow on a member.
Jerry applies his unique skills in the grocery business to organize donations of food and clothing for those less fortunate, and he is particularly dedicated to feeding the hungry.